WDH-1530EC
Single Channel H.264 HD Encoder

Download pdf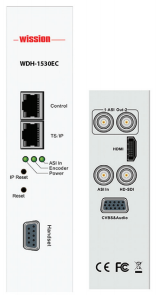 WDH-1530EC is a highly adaptable single channel H.264 (MPEG-4 AVC) HD Encoder, which provide users a high-level operation experience to meet the requirement of the Digital broadcasting market. The WDH-1530EC support various input interface that include HD/SD-SDI, and CVBS. The compressed stream could output via GbE IP and ASI. WDH-1530EC can encode two pairs of stereo audio with its 2nd audio daughter board. With built-in re-multiplexer, WDH-1530EC could re-multiplex the SPTS generated itself and a MPTS input from ASI or IP, which makes WDH-1530EC the most suitable deployment choice for any broadcast system.

Main Feature
• Fully compliant with H.264 HP@Level 4.0 and MP@Level 3.0
• Multiple video resolution including 1080p, 1080i, 720p, 576i and 480i
• Multiple inputs, HD/SD-SDI, and CVBS for encoding
• Support GbE TS/IP input/output(full duplex)
• Built-in Re-mux can multiplex services from ASI Input, IP input with encoded service.
• Can edit PSI/SI
• Support VBR and CBR encoding mode
• Support 2 pairs of analog stereo audio encoding with optional extension audio board
• Remote Control and Supervision by SNMP, HTTP WEB
• 4RU 19" chassis compact modular design, supporting up to 8 modules
• Support Down scale without changing frame rate.