WDH-1520TP
Dual Channel DVB Scrambler

Download pdf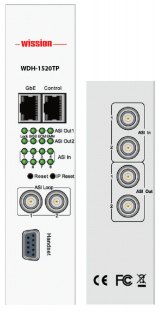 WDH-1520TP is a professional broadcast level Twin DVB-TS Scrambler module,which can support 2 TS streams scrambling with one signal unit. Each ASI Out ports can output independent scrambled TS streams or transparent loop through input TS stream out. It can support up to four different Simulcrypt scramble or BISS 1/E scramble by using the DVB common scrambling algorithm and built-in CW generator. With its high performance and stability, WDH-1520TP can be widely used in current or new-style DVB-S/T/C digital TV headend system.

Main Feature
• Fully compliant with IOS13818 and EN300 468 standard
• Support MPEG2/H.264 TS stream scrambling
• Support BISS 1/E, Simulcrypt scrambling
• 2*ASI for SPTS/MPTS input, up to 213Mbps for each ASI.
• 2*ASI for independent MPTS output, up to 52Mbps for each scrambled TS.
• Can process maximum 48 EMM and ECM for each scramble tunnel
• Support most major CAS in market
• Support local or remote CAS synchronous simulcrypt processing
• Support error alarm of TS level
• Support statistics of PID and service bit rate
• Support PSI/SI insertion or re-generation
• IP GbE interface with up to 860Mbps input/output (transparent TS)
• Large cache with powerful output buffer against burst overflow
• Web remote management and SNMP supervision